Conservation of the chimpanzee in Zambia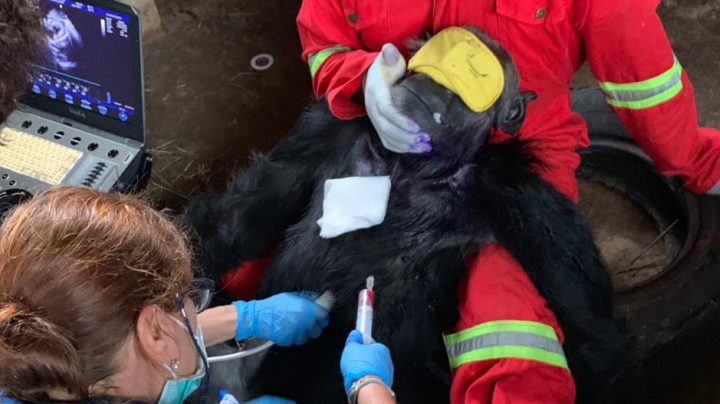 The International Primate Heart Project, henceforth the IPHP, involves collaboration between veterinaries, physiologists and cardiologists for a better understanding of heart disease among the great apes. Heart disease has been identified as one of the main causes of death in great ape populations in captivity; the underlying cause, however, remains unknown at present. In addition, the knowledge base on the structure and normal function of the heart in great apes is extremely limited. The IPHP is therefore aiming to establish recognised reference values for the structure and function of the heart in all great apes, for the purposes of being able to diagnose diseases better and investigate the specific causes of heart disease in the great apes.
The IPHP has been working with zoo collections in the UK over the last eight years and is currently expanding the scope of the project in Africa. The project has been approved by the British and Irish Association of Zoos and Aquariums (BIAZA) and is working in close collaboration with the Pan African Sanctuary Alliance (PASA) and the EEP's Veterinary Advisory Group on Orang-utans.
This programme is an example of the effective inter-disciplinary association that has shown evidence-based improvements in the well-being and conservation of wild animals. The IPHP is offering a scientifically-based research programme on a conservation concern: cardiac health in the great apes. However, more importantly, it is acting as a respectful, perceptive and open collaboration model that produces fast and useful results and an opportunity to improve knowledge and skills in order to collectively enhance the health, well-being and conservation of the great apes.
Barcelona Zoo is collaborating in the IPHP through institutional support for the veterinary Yedra Feltrer (former head vet at the Zoo) to carry out a full assessment of the health of the chimpanzees living in the Tchimfunshi Sanctuary in Zambia. This collaboration allows full heart check-ups to be carried out in order to characterise heart structure and function, electric conduction, heart biomarkers and measure the blood pressure of chimpanzees born in the wild.