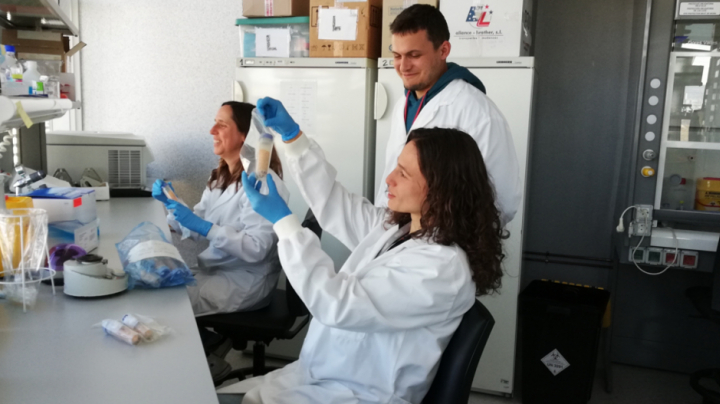 Barcelona Zoo's serum bank came into service in 1990. It has been strengthened over the years through the acquisition of other types of samples such as frozen tissue and tissue in paraffin, germplasm, and skin and feathers for hormonal analysis, and is currently being managed together by Barcelona Zoo and the Veterinary Faculty's Research Group in Endocrinology, Reproduction Physiology (UAB). The development of this initiative depends on a reworking and extension of the Biological Bank's current infrastructure to adapt to the new challenges in the future field of research, under the New Model for Barcelona Zoo.
It is in this context that the Biological Bank's expansion is becoming crucial for taking on the new lines of research applied to conservation through molecular-genetic techniques. This document proposes the creation of a Cryo-Zoo, a project which, following its reference institution, San Diego's Frozen Zoo, would have a big international profile with the aim of positioning itself as a benchmark European centre. A Cryo-Zoo is defined as a bank of samples taken from wild animals and preserved in very low temperature liquid nitrogen, for the purposes of boosting research lines relating to: (1) Reproduction (2) Preserving tissues for conserving biodiversity and (3) Cell lines and stem cells.
The Institute of Evolutionary Biology (IBE, UPF-CSIC) currently has several lines of research which, in synergy with Barcelona Zoo, could see its activity strongly boosted with the creation of this Cryo-Zoo. Hence the establishment of a specific collaboration with this institution aimed at creating and developing a specific line of the Biological Bank at Barcelona Zoo, specifically intended for the cryo-preservation of cellular lines and stem cells.
There are numerous and very diverse applications for maintaining a research structure such as the one proposed, but in general terms, the Cryo-Zoo proposed would focus its attention on research applied to knowledge on ecology and biodiversity conservation. One of the main goals behind this line will be to use molecular genetic techniques to tackle important issues, mainly concerning ecology and conservation, and to contribute relevant information for assessing, monitoring and managing endangered species in the wild, as well as to identify any problems for which genomes may very extremely useful for halting the accelerated loss of biodiversity around the world. One the other hand, another line of research that would be strongly boosted from the Cryo-Zoo's establishment would be animal-biodiversity characterisation and understanding the underlying evolutionary processes and factors involved in the origin of this diversity, its persistence over time and its diversification. This is about understanding biodiversity as a means of promoting conservation.