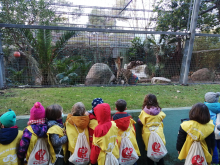 There are only 2 days left for the arrival of the kings and we want to help them in the world of animals !.
In the cover photo you see the gift we brought to the male leopard, a large piñata where the caretaker has added his breakfast, it has been awesome to see him in action, it has been a great hunt!
We've only had 2 days, but we've been very busy learning a lot from the animals we've visited and making enrichments - toys like this piñata you've seen.