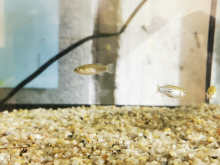 The fartets already have everything they need for reproduction, the two males and the 4 females are ready to help save the species.
You can see some very fat females ready to lay their eggs in the mops that have prepared them like seaweed.
We hope and wish that the laying of eggs is great!
The students of the schools, who are participating in this project, are doing a great job and are learning a lot about this endangered native species!